Final Fantasy VIII | Colonna sonora
Titolo: FINAL FANTASY VIII OST
Brani: 76
CD: 4
CD n° 1
01 – Liberi Fatali
02 – Balamb Garden
03 – Blue Fields
04 – Don't Be Afraid
05 – The Winner
06 – Find Your Way
07 – SeeD
08 – The Landing
09 – Starting Up
10 – Force Your Way
11 – The Loser
12 – Never Look Back
13 – Dead End
14 – Breezy
15 – Shuffle Of Boogie
16 – Waltz For The Moon
17 – Tell Me
18 – Fear
19 – The Man With The Machine Gun
20 – Julia
21 – Roses And Wine
22 – Junction
23 – Timber Owls
CD n° 2
01 – My Mind
02 – The Mission
03 – Martial Law
04 – Cactus Jack (Galbadian Anthem)
05 – Only A Plank Between One And Perdition
06 – Succession of Witches
07 – Galbadia Garden
08 – Unrest
09 – Under Her Control
10- The Stage Is Set
11 – A Sacrifice
12 – Fithos Lusec Wecos Vinosec
13 – Intruders
14 – Premonition
15 – Wounded
16 – Fragments Of Memories
17 – Jailed
18 – Rivals
19 – Ami
CD n° 3
01 – The Spy
02 – Retaliation
03 – Monin'
04 – Blue Sky
05 – Drifting
06 – Heresy
07 – Fisherman's Horizon
08 – Odeka ke Chocobo
09 – Where I Belong
10 – The Oath
11 – Slide Show Part 1
12 – Slide Show Part 2
13 – Love Grows
14 – The Salt Flats
15 – Trust Me
16 – Silence and Motion
17 – Dance with the Balamb-fish
18 – Tears of the moon
19 – Residents
20 – Eyes On me
CD n° 4
01 – Mods de Chocobe (featuring N's Telecaster)
02 – Ride On
03 – Truth
04 – Lunatic Pandora
05 – Compression of Time
06 – The Castle
07 – The Legendary Beast
08 – Maybe I'm a Lion
09 – The Extreme
10 – The Successor
11 – Ending Theme (Part 1) (Part 2)
12 – Overture
Bonus Tracks:
01 – Eyes on me performed by Selphie's band
02 – Jingle performed by Selphie's band

Titolo: FINAL FANTASY VIII ORCHESTRA VERSION [FITHOS LUSEC WECOS VINOSEC]
Brani: 13
CD: 1
01. Liberi Fatali
02. Blue Fields
03. Don't be Afraid
04. Balamb GARDEN ~ Ami
05. Fisherman's horizon
06. FITHOS LUSEC WECOS VINOSEC
07. Eyes on Me
08. The Man with the Machine Gun
09. Dance with the balamb-fish
10. Love Grows
11. The oath
12. Ending Theme
13. Fragments of Memories

Titolo: FINAL FANTASY VIII PIANO COLLECTION
Brani: 13
CD: 1
01. Blue Fields
02. Eyes On Me
03. Fisherman's Horizon
04. SUCCESSION OF WITCHES
05. Ami
06. Shuffle or Boggie
07. Find Your Way
08. The Oath
09. Silence and Motion
10. The Castle
11. The Successor
12. Ending Theme
13. Slide Show part2


Titolo: FINAL FANTASY VIII EYES ON ME (FAYE WONG)
Brani: 3
CD: 1
01. Eyes on Me 5:40
02. Red Bean 4:15
03. Eyes on Me (Instrumental) 5:40
Liberi Fatali
Recitato solennemente in latino, questo è il brano di apertura in Final Fantasy VIII.
Testo: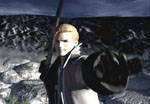 Fithos Lusec Wecos Vinosec
Excitate vos e somno, liberi mei.
Cunae non sunt.
Excitate vos e somno, liberi fatali.
Somnus non eat.
Surgite Invenite hortum veritatis
Ardente veritate
Urite mala mundi.
Ardente veritate
Incendite tenebras mundi.
Valete, liberi, Diebus Fatalibus.
Traduzione:
La successione d'amore delle streghe
Risvegliatevi dal sonno, figli miei.
La culla non c'è più.
Risvegliatevi dal sonno, figli del fato.
Non è più tempo di dormire.
Sorgete Scoprite il giardino della verità
Con l'ardente verità
Bruciate i mali del mondo.
Con l'ardente verità
Incendiate le tenebre del mondo.
Siate forti, (addio) figli, nei giorni del fato.
Eyes On Me
Suonata per la prima volta dalla pianista Giulia, diventerà prima la canzone d'amore di Laguna e Raine, poi di Squall e Rinoa. Il motivo è suonato diverse volte durante il corso del gioco e cantato da Faye Wong durante una sequenza all'interno del Lagunarock, nonché durante il filmato finale.
Testo: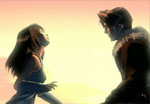 Whenever sang my songs
On the stage, on my own
Whenever said my words
Wishing they would be heard
I saw you smiling at me
Was it real or just my fantasy
You'd always be there in the corner
Of this tiny little bar
My last night here for you
Same old songs, just once more
My last night here with you?
Maybe yes, maybe no
I kind of liked it your way
How you shily placed your eyes on me
Oh, did you ever know?
That I had mine on you.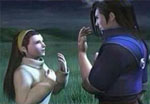 Darling, so there you are
With that look on your face
As if you're never hurt
As if you're never down
Shall I be the one for you
Who pinches you softly but sure
If frown is shown then
I will know that you are no dreamer
So let me come to you
Close as I wanna be
Close enough for me
To feel your heart beating fast
And stay there as I whisper
How I loved your peaceful eyes on me
Did you ever know
That I had mine on you.
Darling, so share with me
Your love if you have enough
Your tears if you're holding back
Or pain if that's what it is
How can I let you know
I'm more than the dress and the voice
Just reach me out then
You will know that you're no dreaming.
Traduzione:
Quando cantavo le mie canzoni
sul palco, da sola
quando pronunciavo le mie parole
sperando che fossero udite
vedevo che mi sorridevi
era la realtà o solo una mia fantasia?
Eri sempre lì in un angolo
di questo piccolo, minuscolo bar.
La mia ultima notte qui per te
le stesse vecchie canzoni, ancora una volta
la mia ultima notte qui con te?
Forse sì, forse no.
Mi piaceva molto il tuo modo di fare
come timidamente posavi i tuoi occhi su di me.
Oh, ti eri mai accorto
che anch'io avevo i miei su di te?
Amore, allora eccoti qui
con quello sguardo sul tuo viso
come se tu non soffrissi mai,
come se tu non fossi mai triste
sarò l'unica per te
quella che ti pizzica dolcemente ma con sicurezza
se ti vedrò aggrottare le ciglia
saprò che non stai sognando.
Quindi lascia che mi avvicini a te
vicina come vorrei essere
abbastanza avvicina
da sentire il tuo cuore battere forte
e stare qui per sussurrarti
quanto ho amato i tuoi tranquilli occhi su di me
Ti eri mai accorto che anch'io avevo i miei su di te?
Amore, dividi con me
il tuo amore se ne hai abbastanza
le tue lacrime se le stai trattenendo
o la sofferenza se si tratta di questo
Come posso farti capire
che io sono più del vestito e della voce?
Basta che stendi la mano verso di me e allora
saprai che non stai sognando.