Final Fantasy XIII | Episode Zero
Final Fantasy XIII: Episode Zero -Promise- non è altro che un racconto che è stato inserito ad episodi sul sito ufficiale giapponese di Final Fantasy XIII. Questo romanzo, le cui vicende sono collocate anteriormente rispetto a quelle di FFXIII, è composto da varie parti, suddivise a loro volta in capitoli.
In questa pagina troverete la traduzione completa della novel, a cominciare dalla prima parte, intitolata "Encounter".
La traduzione è stata effettuata da Nao e da Zell. Se volete copiarla e pubblicarla altrove, chiedete prima il permesso o, almeno, assicuratevi di specificarne la provenienza.
La traduzione inglese originale è opera di Lissar.
Attenzione: le parti I, III e V sono state pubblicate sul sito ufficiale del gioco; le parti restanti, contenenti potenziali spoiler, sono state pubblicate esclusivamente in Giappone, dove sono uscite in forma cartacea.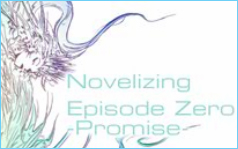 Parte I: Encounter (7 capitoli)
Parte II: Stranger (5 capitoli)
Parte III: Treasure (Family) (7 capitoli)
Parte IV: Search (7 capitoli)
Parte V: Friends (5 capitoli)
Parte VI: Present
– Present
Parte VII: Tomorrow
– It was on that day, the traged fell upon us.
– It was on that day, two girl children entered the temple.