Square Enix ha finalmente annunciato i dettagli dell'Original Soundtrack di Final Fantasy XV, in uscita il 21 dicembre in Giappone. Sarà disponibile in ben tre diverse edizioni: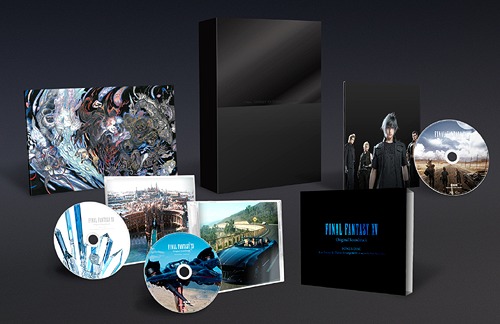 un' edizione normale contenente 90 tracce musicali distribuite su 4 CD (3.800 yen, circa 33 euro);
una con le stesse tracce dell'edizione normale su un unico Blu-ray, con tanto di video in background e un supporto a internet attivo (5.000 yen, circa 44 euro);
infine, un'edizione speciale (9.074 yen, circa 79 euro) contenente due Blu-ray, un CD e un libretto in cui sarà possibile trovare delle interviste fatte alla compositrice Yoko Shimomura e ad altre persone coinvolte nella produzione della colonna sonora. Il primo Blu-ray di questa edizione sarà identico a quello dell'edizione da 5.000 yen ma presenterà alcune bonus tracks, tra cui la canzone "Stand by Me" di Florence + The Machine. Il secondo Blu-ray conterrà invece 250 tracce dalla serie Final Fantasy (per essere più precisi, quelle che si potranno ascoltare nel gioco a bordo della Regalia); infine, il CD extra conterrà degli arrangiamenti al pianoforte.
Nao
Mi chiamo Luca e dal 2009 aiuto Stefano con il sito per passione, in particolar modo per quanto riguarda le notizie e i social. Ho iniziato a considerare i videogiochi una passione intorno al 2006, anno in cui ho scoperto quello che ancora oggi è uno dei miei personaggi videoludici preferiti di sempre: Lara Croft. I miei generi preferiti sono i JRPG, gli action adventure, le avventure grafiche e gli horror.
Recenti/prossime uscite
Final Fantasy XVI
22.06.2023   PS5
Final Fantasy VII Ever Crisis
07.09.2023   iOS | Android
Dragon Quest Trasures
14.07.2023   PC
Fullmetal Alchemist Mobile
2023   iOS | Android
Dragon Quest Keshi Keshi
2023   iOS | Android
Dragon Quest III Remake HD-2D
2023   ???
Infinity Strash – DQ: The Adventure of Dai
28.09.2023   PS4 | PS5 | NSW | PC | XBX
Dragon Quest Monsters: Il principe oscuro
01.12.2023   NSW
Kingdom Hearts Missing-Link
2024   iOS | Android
Final Fantasy VII Rebirth
29.02.2024   PS5
Dragon Quest XII: The Flames of Fate
???
Kingdom Hearts IV
???