Per il doppiaggio di Final Fantasy XVI è stata data priorità all'inglese e contestualmente sono state effettuate le sessioni di facial motion capture. Lo ha svelato Naoki Yoshida, producer del gioco, durante una trasmissione del canale YouTube WasyaganaTV, del quale è stato ospite oggi.
In altre parole, per la versione internazionale del gioco i movimenti facciali dei personaggi dovrebbero essere già pronti. Come riportato un paio di settimane fa, la registrazione delle voci inglesi è stata quasi completata, mentre Yoshi-P ha fatto sapere oggi che il doppiaggio giapponese inizierà presto. Il producer ha aggiunto che per principio, nel caso di FFXVI come in quello di FFXIV, non assiste mai alle registrazioni. Vuole evitare infatti di scavalcare il ruolo degli sceneggiatori.
Di seguito trovate la traduzione completa delle dichiarazioni di Yoshida.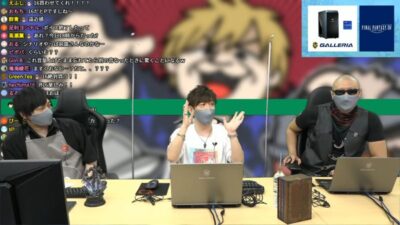 Lavoro a FFXIV da 8 anni ormai, ma in realtà non sono mai andato a nessuna delle sue registrazioni. Sono uno sceneggiatore anch'io, quindi so che se andassi mi metterei nei panni degli scrittori. Non voglio farlo per rispetto nei loro confronti. E io sono sia il director sia il produttore del gioco. Sarebbe confusionario [strano] se fossi lì e dessi ai seiyuu [doppiatori] delle istruzioni anh'io insieme agli scrittori.
E per Final Fantasy XVI?
Nemmeno in questo caso partecipo alle registrazioni. Non sono lo sceneggiatore del gioco. Durante gli incontri incentrati sugli scenari che abbiamo avuto, abbiamo discusso molto su cose come "questa battuta sarebbe meglio fatta in questo modo per mostrare la psicologia del protagonista Clive": osservazioni che vengono prese in considerazione durante le registrazioni.

Abbiamo dato priorità alla registrazione vocale in inglese. E la stiamo facendo specificamente in inglese britannico. Utilizziamo l'acquisizione facciale, così in seguito non dovremo regolare manualmente ciascuna delle facce durante le cutscene. Ed è "full capture", vale a dire che gli attori del motion capture eseguono anche la recitazione in simultanea. Preciso che non lo facciamo per ogni singola cutscene. Ad ogni modo, questo è il motivo per cui il doppiaggio inglese è più avanti. Il doppiaggio giapponese inizierà presto.
Final Fantasy XVI è stato svelato nel settembre 2020 durante la presentazione di PlayStation 5. Diretto da Hiroshi Takai e sviluppato dalla Creative Business Unit III, la stessa di Final Fantasy XIV, è stato presentato come un action-RPG in single player. Al momento il gioco è privo di una finestra di lancio, ma è stato annunciato che uscirà in esclusiva temporanea su PS5. Cliccate qui per leggere tutti gli articoli usciti finora su FFXVI.
Zell
Il mio vero nome è Stefano e sono nato nello stesso anno di uscita del primo Final Fantasy. Nel 2000 ho aperto un sito su Final Fantasy VIII, ignaro del fatto che avrei condannato buona parte della mia vita a parlare dei giochi targati Square (per ora senza rimpianti). Videogiocatore dai tempi dell'Amiga 500, amo la musica, i libri gialli e thriller e soffro di dipendenza da serie TV. Contrariamente agli stereotipi legati ai fan di Final Fantasy, non sono un fan né dei manga né degli anime e il mio genere preferito non sono i giochi di ruolo bensì... Guarda dietro di te! Una scimmia a tre teste!
Recenti/prossime uscite
Final Fantasy XVI
22.06.2023   PS5
Final Fantasy VII Ever Crisis
07.09.2023   iOS | Android
Dragon Quest Trasures
14.07.2023   PC
Fullmetal Alchemist Mobile
2023   iOS | Android
Dragon Quest Keshi Keshi
2023   iOS | Android
Dragon Quest III Remake HD-2D
2023   ???
Infinity Strash – DQ: The Adventure of Dai
28.09.2023   PS4 | PS5 | NSW | PC | XBX
Dragon Quest Monsters: Il principe oscuro
01.12.2023   NSW
Kingdom Hearts Missing-Link
2024   iOS | Android
Final Fantasy VII Rebirth
29.02.2024   PS5
Dragon Quest XII: The Flames of Fate
???
Kingdom Hearts IV
???