Su Microsoft Store è apparsa poco fa una scheda dedicata a Tomb Raider: Definitive Survivor Trilogy, raccolta delle edizioni definitive di Tomb Raider (2013), Rise of the Tomb Raider e Shadow of the Tomb Raider. Queste edizioni includono, oltre al gioco base, i vari DLC post-lancio, comprensivi di nuove tombe, armi, outfit e abilità. Nel momento in cui si scrive non sono stati fatti annunci in merito da parte di Square Enix, Crystal Dynamics o Eidos-Montréal, pertanto si tratta a tutti gli effetti di un leak.
La compilation, sempre secondo quanto riportato sul sito di Microsoft, dovrebbe uscire il 17 marzo 2021 ed essere compatibile con il 4K Ultra HD e l'HDR10. Di seguito, la descrizione ufficiale. Da notare che i reboot sono ora definiti "prequel".
Tomb Raider: Definitive Survivor Trilogy è l'edizione completa dei pluripremiati giochi sulle origini di Tomb Raider. Questa raccolta contiene tutte le edizioni definitive di ciascun prequel: Tomb Raider: Definitive Edition, Rise of the Tomb Raider: 20 Year Celebration e Shadow of the Tomb Raider: Definitive Edition. Segui Lara nelle sue avventure formative per il mondo, dall'isola di Yamatai di Tomb Raider sulle coste del Giappone all'inclemente tundra siberiana e al suo immortale segreto in Rise of the Tomb Raider, fino a concludere il viaggio alla scoperta di un potere catastrofico tra le montagne peruviane di Shadow of the Tomb Raider. Grazie ai contenuti delle edizioni definitive di ciascun titolo, la trilogia offre decine di ore di esplorazione mozzafiato, impegnativi enigmi e combattimenti per la sopravvivenza mentre Lara compie il suo destino di diventare Tomb Raider.
Tomb Raider: Definitive Survivor Trilogy potrebbe rientrare tra gli annunci per festeggiare il 25° di Tomb Raider. È molto probabile che la raccolta esca non solo su Xbox, ma anche sulle altre piattaforme per le quali sono già disponibili le Definitive Edition dei singoli titoli della trilogia (PlayStation 4, PC Windows/Steam e Stadia), nonché su PS5.
Aggiornamento (18/03/2021): Tomb Raider: Definitive Survivor Trilogy è apparso ora anche su PlayStation Store. Il prezzo indicato è 49,99 $, scontato a 19,99 $ fino al 2 aprile.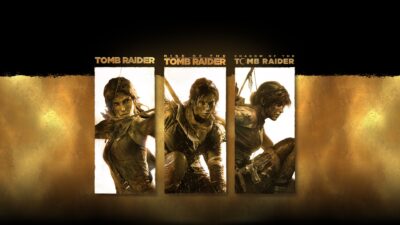 Zell
Il mio vero nome è Stefano e sono nato nello stesso anno di uscita del primo Final Fantasy. Nel 2000 ho aperto un sito su Final Fantasy VIII, ignaro del fatto che avrei condannato buona parte della mia vita a parlare dei giochi targati Square (per ora senza rimpianti). Videogiocatore dai tempi dell'Amiga 500, amo la musica, i libri gialli e thriller e soffro di dipendenza da serie TV. Contrariamente agli stereotipi legati ai fan di Final Fantasy, non sono un fan né dei manga né degli anime e il mio genere preferito non sono i giochi di ruolo bensì... Guarda dietro di te! Una scimmia a tre teste!
Commenti
Una replica a "Leak: in arrivo a breve la "Definitive Survivor Trilogy" di Tomb Raider"
Recenti/prossime uscite
NEO: The World Ends with You
27.07.2021   PS4 | NSW
28.09.2021  Epic Store
NieR Re[in]carnation
28.07.2021   iOS | Android
Final Fantasy (Pixel Remaster)
28.07.2021   Steam
29.07.2021   iOS | Android
Final Fantasy II (Pixel Remaster)
28.07.2021   Steam
29.07.2021   iOS | Android
Final Fantasy III (Pixel Remaster)
28.07.2021   Steam
29.07.2021   iOS | Android
Bravely Default II
02.09.2022   Steam
Final Fantasy IV (Pixel Remaster)
08.09.2021   Steam | iOS | Android
Life is Strange: True Colors
10.09.2021
PC | PS4 | PS5 | XB1 | XSX | Stadia
Collection of Saga
22.09.2021   iOS | Android
21.10.2021   Steam
Actraiser Renaissance
24.09.2021   NSW | PS4 | PC | iOS | Android
DQ The Adventure of Dai: A Hero's Bonds
28.09.2021   iOS | Android
Life is Strange Wavelengths (DLC)
30.09.2021
PC | PS4 | XB1 | XSX | NSW | Stadia
Marvel's Guardians of the Galaxy
26.10.2021
PC | PS4 | PS5 | XB1 | XSX | GFN
Voice of Cards: The Isle Dragon Roars
28.10.2021   NSW | PC | PS4
Final Fantasy XIV: Endwalker
23.11.2021   PS4 | PS5 | PC
Final Fantasy VII The First Soldier
2021   iOS | Android
Life is Strange Remastered Collection
Inizio 2022
PC | PS4 | XB1 | XSX | NSW | Stadia
Triangle Strategy
04.03.2022   NSW
Final Fantasy VII Ever Crisis
2022   iOS | Android
Chocobo GP
2022   NSW
Babylon's Fall
2022   PS5 | PS4 | PC
Stranger of Paradise FF Origin
2022   PC | XB1 | SXS | PS4 | PS5
Forspoken
2022   PS5 | PC
Echoes of Mana
2022 iOS | Android