Durante la conferenza J-POP Manga tenutasi oggi a Lucca Comics & Games 2019 è stato annunciato che il noto editore di manga pubblicherà in Italia "Final Fantasy VII: On the Way to a Smile", romanzo scritto da Kazushige Nojima e composto da diversi racconti ambientati cronologicamente tra la fine di Final Fantasy VII e Final Fantasy VII: Advent Children. Al momento non si conoscono maggiori dettagli oltre al fatto che il volume sarà pubblicato nel corso del 2020.
Aggiornamento (16/01/2020): secondo quanto riportato da AnimeClick, il volume sarà pubblicato in Italia da J-POP il prossimo marzo al prezzo di 14 euro. È già possibile pre-ordinarlo su Amazon.
Consterà di 278 pagine sia in bianco e nero sia a colori. Il formato è 14 x 21 cm, la rilegatura in brossura con sovraccoperta.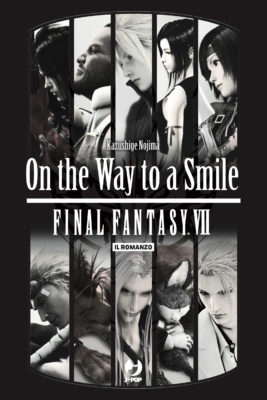 Il primo racconto, "Episode: Denzel", fu pubblicato in capitoli sul sito giapponese di Advent Children, e poi unitamente a "Episode: Tifa" nel libro "Final Fantasy VII: Advent Children Prologue" edito da V-Jump. Fu poi il turno di "Episode: Barret", pubblicato in inglese con le limited edition nordamericana ed europea di Advent Children.
"On The Way to a Smile" venne pubblicato il 17 aprile 2009 insieme a Final Fantasy VII: Advent Children Complete. Questa edizione conteneva una versione aggiornata di "Episode: Barret" e tre nuovi capitoli: "Episode: Yuffie", "Episode: Nanaki", "Episode: Shinra", nonché i due racconti "Lifestream: Black" e "Lifestream: White", rispettivamente dedicati a Sephiroth e Aerith.
"On The Way to a Smile" arrivò in Germania nel 2011 (288 pagine), in Francia nel 2014 (280 pagine) e in Spagna nell'aprile del 2019 (264 pagine).
Per chi non lo sapesse, J-POP sta pubblicando nel nostro paese i volumi del fumetto Final Fantasy: Lost Stranger. È stato editore inoltre di Final Fantasy Type-0 Side Story: Il Mietitore dalla Spada di Ghiaccio.
Zell
Il mio vero nome è Stefano e sono nato nello stesso anno di uscita del primo Final Fantasy. Nel 2000 ho aperto un sito su Final Fantasy VIII, ignaro del fatto che avrei condannato buona parte della mia vita a parlare dei giochi targati Square (per ora senza rimpianti). Videogiocatore dai tempi dell'Amiga 500, amo la musica, i libri gialli e thriller e soffro di dipendenza da serie TV. Contrariamente agli stereotipi legati ai fan di Final Fantasy, non sono un fan né dei manga né degli anime e il mio genere preferito non sono i giochi di ruolo bensì... Guarda dietro di te! Una scimmia a tre teste!
Commenti
Una replica a "Final Fantasy VII: On the Way to a Smile sarà pubblicato in Italia"
Recenti/prossime uscite
Legend of Mana
24.06.2021   PS4 | NSW | PC
Trials of Mana
15.07.2021 iOS | Android
NEO: The World Ends with You
27.07.2021   PS4 | NSW
Estate 2021  Epic Store
NieR Re[in]carnation
28.07.2021   iOS | Android
Final Fantasy (Pixel Remaster)
28.07.2021   Steam
29.07.2021   iOS | Android
Final Fantasy II (Pixel Remaster)
28.07.2021   Steam
29.07.2021   iOS | Android
Final Fantasy III (Pixel Remaster)
28.07.2021   Steam
29.07.2021   iOS | Android
Life is Strange: True Colors
10.09.2021
PC | PS4 | PS5 | XB1 | XSX | NSW | Stadia
Life is Strange Remastered Collection
30.09.2021
PC | PS4 | XB1 | XSX | NSW | Stadia
Marvel's Guardians of the Galaxy
26.10.2021
PC | PS4 | PS5 | XB1 | XSX | GFN
Final Fantasy XIV: Endwalker
23.11.2021   PS4 | PS5 | PC
DQ The Adventure of Dai: A Hero's Bonds
Autunno 2021   iOS | Android
Final Fantasy VII The First Soldier
2021   iOS | Android
Final Fantasy VII Ever Crisis
2022   iOS | Android
Project Triangle Strategy
2022   NSW
Babylon's Fall
2022   PS5 | PS4 | PC
Stranger of Paradise FF Origin
2022   PC | XB1 | SXS | PS4 | PS5
Forspoken
2022   PS5 | PC
Echoes of Mana
2022 iOS | Android