Final Fantasy VII: Advent Children, film in computer grafica proiettato per la prima volta nel 2005 e diretto da Tetsuya Nomura e Takeshi Nozue, uscirà tra un paio di mesi in edizione rimasterizzata in 4K Ultra HD. Questa sarà in vendita dal prossimo 8 giugno, secondo quanto annunciato da Sony Pictures Home Entertainment.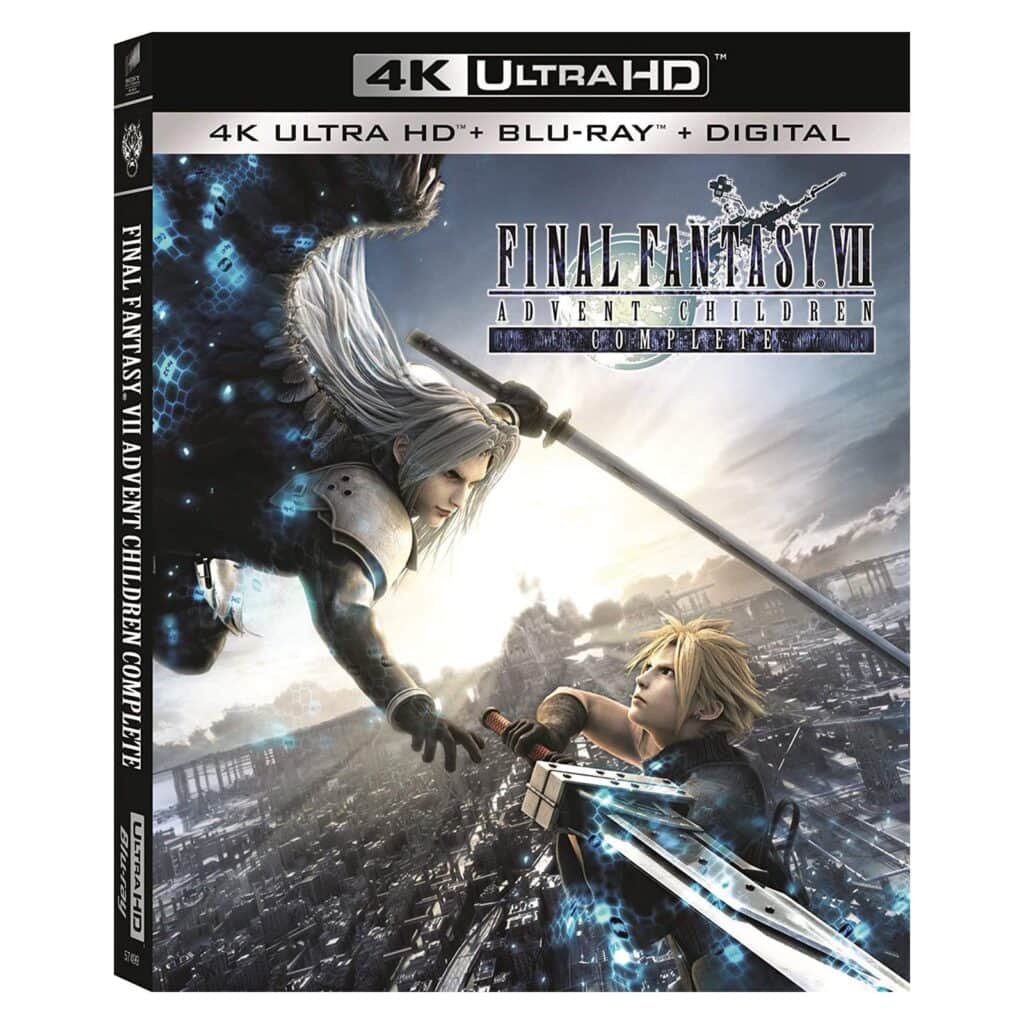 La versione 4K UHD di Advent Children sarà compatibile con HDR10, avrà tracce audio Dolby Atmos e 5.1 in inglese e giapponese e includerà diversi extra su un secondo disco Blu-ray, come l'OVA On the Way to a Smile -Episode: Denzel- Final Fantasy VII, basato su un capitolo del romanzo On the Way to a Smile.
Final Fantasy VII: Advent Children era già uscito in HD in formato Blu-ray nel 2009, nella versione "Complete". Questa includeva una versione estesa del film con 25 minuti extra, modifiche a scene preesistenti e dialoghi, sottotitoli in italiano basati sulle traduzioni degli altri episodi della Compilation of Final Fantasy VII, l'Episodio di Denzel e un trailer di Final Fantasy XIII (la versione giapponese conteneva anche una demo di circa 2 ore). Questa sarà la versione del lungometraggio inclusa nell'edizione 4K UHD.
Advent Children è una diretta continuazione degli eventi del gioco originale per PlayStation. Recentemente è stato annunciato che il gioco mobile Final Fantasy VII Ever Crisis, in uscita nel 2022, includerà le trame di tutti i titoli della Compilation, incluso Advent Children.
Per il momento l'edizione 4K Ultra HD di Final Fantasy VII: Advent Children Complete può essere preordinata su Amazon.com (non .it) al prezzo di 30,99 dollari. Il disco del film include il doppiaggio in giapponese, inglese, francese, tedesco e spagnolo e i sottotitoli in numerose lingue, tra cui l'italiano.
Caratteristiche dischi e materiale bonus

Disco 4K Ultra HD
Newly Remastered in 4K, with HDR10
All-new English & Japanese Dolby Atmos audio tracks + English & Japanese 5.1 audio

Disco Blu-ray
Feature presented in HD
On the Way to a Smile – Episode: Denzel Animated Film
Reminiscence of FINAL FANTASY VII Original Story Digest
Reminiscence of FINAL FANTASY VII Compilation Story Digest
Legacy of FINAL FANTASY VII Featurette
Trailers

Troupe
Directed by: Tetsuya Nomura
Co-Director: Takeshi Nozue
Scenario by: Kazushige Nojima
Producers: Yoshinori Kitase, Shinji Hashimoto, Ichiro Hazama

Specifiche
Run Time: Approx. 126 minutes
Rating: Unrated
Feature Picture: 2160p Ultra High Definition, 1.78:1
Feature Audio: English, Japanese Dolby Atmos (Dolby TrueHD 7.1 Compatible) | English, Japanese 5.1 DTS-HD MA

Trama
Due anni dopo la fine di Final Fantasy VII, Cloud sta conducendo una vita da solitario e porta avanti un servizio di consegne. Tuttavia le cose non vanno così bene come sembrerebbe. Una nuova minaccia conosciuta come Geostigma ha fatto la sua comparsa a seguito degli eventi di FFVII e senza alcuna ragione apparente tre uomini hanno deciso di attaccare Cloud…
Zell
Il mio vero nome è Stefano e sono nato nello stesso anno di uscita del primo Final Fantasy. Nel 2000 ho aperto un sito su Final Fantasy VIII, ignaro del fatto che avrei condannato buona parte della mia vita a parlare dei giochi targati Square (per ora senza rimpianti). Videogiocatore dai tempi dell'Amiga 500, amo la musica, i libri gialli e thriller e soffro di dipendenza da serie TV. Contrariamente agli stereotipi legati ai fan di Final Fantasy, non sono un fan né dei manga né degli anime e il mio genere preferito non sono i giochi di ruolo bensì... Guarda dietro di te! Una scimmia a tre teste!
Recenti/prossime uscite
Bravely Default II
26.02.2021   NSW
Tomb Raider: Definitive Survival Trilogy
18.03.2021   PS4 | XB1 | XSX
Balan Wonderworld
26.03.2021
PC | PS4 | PS5 | XB1 | XSX | NSW
Outriders
01.04.2021
PS4 | PS5 | XB1 | XSX | PC | Stadia
SaGa Frontier Remastered
15.04.2021   PS4 | NSW | PC | iOS | Android
NieR Replicant ver. 1.22474487139…
23.04.2021   PS4 | XB1 | PC
Legend of Mana
24.06.2021   PS4 | NSW | PC
NieR Re[in]carnation
2021   iOS | Android
NEO: The World Ends with You
27.07.2021   PS4 | NSW
Estate 2021  Epic Store
Life is Strange: True Colors
10.09.2021
PC | PS4 | PS5 | XB1 | XSX | Stadia
Babylon's Fall
2021   PS4 | PC
Project Triangle Strategy
2022   NSW
Forspoken
2022   PS5 | PC