Square Enix ha annunciato che Dragon Quest Builders 2 sarà pubblicato in Europa il prossimo 12 luglio, per PlayStation 4 e Nintendo Switch. La versione fisica per PS4 può già essere preordinata dallo Square Enix Store al prezzo di 59,99 €.
Il gioco, un mix tra crafting game e RPG che funge da seguito dell'acclamato Dragon Quest Builders, includerà una campagna single-player e un'inedita modalità multiplayer online, che permetterà a un massimo di quattro giocatori di costruire qualcosa insieme. La storia sarà ambientata in un mondo inedito e ci permetterà di conoscere nuovi personaggi.
Il gioco include una serie di novità, tra cui le possibilità di:
costruire strutture più grandi attraverso opzioni ancora più varie di prima;
spostarsi più velocemente planando, nuotando e scattando per il vastissimo mondo di gioco;
farsi aiutare dagli abitanti dei villaggi;
creare fattorie e coltivare diversi tipi di colture;
deviare corsi d'acqua per creare nuovi fiumi, nuove cascate e luoghi in cui nuotare;
vedere il mondo in maniera completamente nuova con la modalità in prima persona.
Inoltre, Square Enix ha fatto sapere che i possessori del primo Dragon Quest Builders potranno creare la tenuta del Costruttore Leggendario e il trono del Dragonlord.
Di seguito trovate le due versioni del filmato iniziale di Dragon Quest Builders 2, che cambierà a seconda del sesso del protagonista.
Infine, Square Enix ha diffuso un lungo video di gameplay e una valanga di screenshot. Buona visione!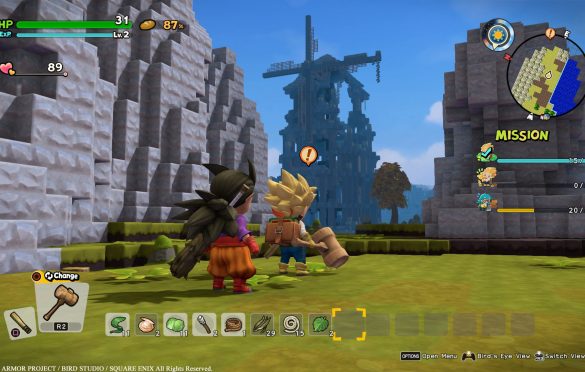 Zell
Il mio vero nome è Stefano e sono nato nello stesso anno di uscita del primo Final Fantasy. Nel 2000 ho aperto un sito su Final Fantasy VIII, ignaro del fatto che avrei condannato buona parte della mia vita a parlare dei giochi targati Square (per ora senza rimpianti). Videogiocatore dai tempi dell'Amiga 500, amo la musica, i libri gialli e thriller e soffro di dipendenza da serie TV. Contrariamente agli stereotipi legati ai fan di Final Fantasy, non sono un fan né dei manga né degli anime e il mio genere preferito non sono i giochi di ruolo bensì... Guarda dietro di te! Una scimmia a tre teste!
Recenti/prossime uscite
Final Fantasy XVI
22.06.2023   PS5
Final Fantasy VII Ever Crisis
07.09.2023   iOS | Android
Dragon Quest Trasures
14.07.2023   PC
Front Mission 2: Remake
2023   NSW
Kingdom Hearts Missing-Link
2023   iOS | Android
Fullmetal Alchemist Mobile
2023   iOS | Android
Dragon Quest Keshi Keshi
2023   iOS | Android
Dragon Quest III Remake HD-2D
2023   ???
Infinity Strash – DQ: The Adventure of Dai
28.09.2023   PS4 | PS5 | NSW | PC | XBX
Dragon Quest Monsters: Il principe oscuro
01.12.2023   NSW
Final Fantasy VII Rebirth
29.02.2024   PS5
Front Mission 3: Remake
???   NSW
Dragon Quest XII: The Flames of Fate
???
Kingdom Hearts IV
???