A sorpresa, nella versione USA dello Square Enix Store ha fatto capolino Kingdom Hearts -The Story So Far-, collection che, com'è facile intuire, racchiude il disco di Kingdom Hearts HD 1.5+2.5 ReMIX e quello di Kingdom Hearts HD 2.8 Final Chapter Prologue, contenenti a loro volte una moltitudine di giochi. Nel dettaglio:
KINGDOM HEARTS HD 1.5+2.5 ReMIX
KINGDOM HEARTS FINAL MIX
KINGDOM HEARTS Re:Chain of Memories
KINGDOM HEARTS 358/2 Days (filmati rimasterizzati HD)
KINGDOM HEARTS II FINAL MIX
KINGDOM HEARTS Birth by Sleep FINAL MIX
KINGDOM HEARTS Re:coded (filmati rimasterizzati in HD)
KINGDOM HEARTS HD 2.8 FINAL CHAPTER PROLOGUE
KINGDOM HEARTS Dream Drop Distance HD
KINGDOM HEARTS 0.2 Birth by Sleep –A fragmentary passage–
KINGDOM HEARTS χ Back Cover (filmato)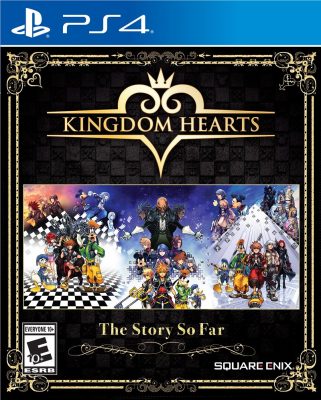 Ancora una volta, gli utenti Xbox One non hanno nulla di che gioire dal momento che anche questa maxi-compilation, come le precedenti, è un'esclusiva PlayStation 4.
Kingdom Hearts -The Story So Far- sarà disponibile dal 30 ottobre all'allettante prezzo di 39,99 dollari.
Ancora non è chiaro se la collection sarà disponibile dalla stessa data anche in Europa, ma quel che è certo è che ora non ci sono proprio più scuse per non prepararsi al meglio al prossimo 29 gennaio, giorno dell'uscita di Kingdom Hearts III.
[AGGIORNAMENTO] Dopo circa due ore dall'annuncio, l'account ufficiale di Kingdom Hearts su Twitter ha precisato che la compilation Kingdom Hearts -The Story So Far- al momento è prevista esclusivamente per il territorio statunitense. Saranno pubblicati aggiornamenti in caso di cambi di programma.
The #KingdomHearts –The Story So Far– compilation is currently planned for the US only. We will keep you all posted if this changes. Thank you for your patience and understanding.

— Kingdom Hearts (@KINGDOMHEARTS) 5 ottobre 2018
Zell
Il mio vero nome è Stefano e sono nato nello stesso anno di uscita del primo Final Fantasy. Nel 2000 ho aperto un sito su Final Fantasy VIII, ignaro del fatto che avrei condannato buona parte della mia vita a parlare dei giochi targati Square (per ora senza rimpianti). Videogiocatore dai tempi dell'Amiga 500, amo la musica, i libri gialli e thriller e soffro di dipendenza da serie TV. Contrariamente agli stereotipi legati ai fan di Final Fantasy, non sono un fan né dei manga né degli anime e il mio genere preferito non sono i giochi di ruolo bensì... Guarda dietro di te! Una scimmia a tre teste!
Recenti/prossime uscite
Final Fantasy XVI
22.06.2023   PS5
Final Fantasy VII Ever Crisis
07.09.2023   iOS | Android
Dragon Quest Trasures
14.07.2023   PC
Fullmetal Alchemist Mobile
2023   iOS | Android
Dragon Quest Keshi Keshi
2023   iOS | Android
Dragon Quest III Remake HD-2D
2023   ???
Infinity Strash – DQ: The Adventure of Dai
28.09.2023   PS4 | PS5 | NSW | PC | XBX
Dragon Quest Monsters: Il principe oscuro
01.12.2023   NSW
Kingdom Hearts Missing-Link
2024   iOS | Android
Final Fantasy VII Rebirth
29.02.2024   PS5
Dragon Quest XII: The Flames of Fate
???
Kingdom Hearts IV
???