L'ultimo numero di Famitsu dedica a Final Fantasy VII Remake ben otto pagine ricche di interviste al director Tetsuya Nomura, al produttore Yoshinori Kitase e allo sceneggiatore Kazushige Nojima.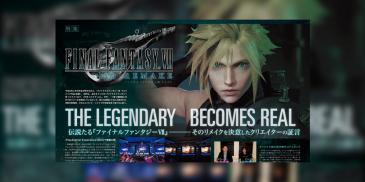 Riportiamo di seguito una sintesi delle informazioni contenute nell'articolo, molte delle quali già pubblicate sulla pagina Facebook di Zell's Fantasy:
– la sceneggiatura della prima parte del progetto Final Fantasy VII Remake è stata completata;
– la sceneggiatura di FFVIIR sarà più ampia rispetto all'originale, e maggiormente connessa alla Compilation of FFVII. Verrà approfondito il background di Jessie, Biggs, Wedge e altri personaggi;
– le scene in cui Cloud soffree di allucinazioni saranno realizzate in modo da essere più significative;
– i giocatori potranno esplorare aree inedite di Midgar;
– il team di FFVIIR ha un'idea del numero di parti di cui sarà composto il gioco finale, ma crede che sia troppo presto per fare annunci ufficiali al riguardo;
– ancora non sono stati discussi eventuali aspetti online;
– la barra rossa vista nell'ultimo trailer durante i combattimenti non indica le Limit Break;
– oltre a quello delle Limit Break, ci sarà un altro sistema speciale. Gli sviluppatori non possono ancora parlarne, ma hanno detto che sarà diverso a seconda dello stile di gameplay del giocatore;
– è ancora da decidere se ci sarà il comando "Guard";
– per i combattimenti si punta, in termini di aspetto, a Dissidia Final Fantasy Arcade;
– nell'utilizzare l'Unreal Engine 4, il team di sviluppo di FFVIIR sta ricevendo l'aiuto del team di sviluppo di Kingdom Hearts III;
– Nomura sta monitorando attentamente lo sviluppo di FFVIIR, al punto da aver corretto perfino i grani dell'asfalto;
– i doppiatori giapponesi saranno grossomodo gli stessi di Advent Children, tuttavia i personaggi che si sono limitati a brevi apparizioni (come Red XIII) potrebbero avere una voce diversa.
Final Fantasy VII Remake uscirà prossimamente in esclusiva temporanea per PS4.
Zell
Il mio vero nome è Stefano e sono nato nello stesso anno di uscita del primo Final Fantasy. Nel 2000 ho aperto un sito su Final Fantasy VIII, ignaro del fatto che avrei condannato buona parte della mia vita a parlare dei giochi targati Square (per ora senza rimpianti). Videogiocatore dai tempi dell'Amiga 500, amo la musica, i libri gialli e thriller e soffro di dipendenza da serie TV. Contrariamente agli stereotipi legati ai fan di Final Fantasy, non sono un fan né dei manga né degli anime e il mio genere preferito non sono i giochi di ruolo bensì... Guarda dietro di te! Una scimmia a tre teste!
Recenti/prossime uscite
Final Fantasy XVI
22.06.2023   PS5
Final Fantasy VII Ever Crisis
07.09.2023   iOS | Android
Dragon Quest Trasures
14.07.2023   PC
Fullmetal Alchemist Mobile
2023   iOS | Android
Dragon Quest Keshi Keshi
2023   iOS | Android
Dragon Quest III Remake HD-2D
2023   ???
Infinity Strash – DQ: The Adventure of Dai
28.09.2023   PS4 | PS5 | NSW | PC | XBX
Dragon Quest Monsters: Il principe oscuro
01.12.2023   NSW
Kingdom Hearts Missing-Link
2024   iOS | Android
Final Fantasy VII Rebirth
29.02.2024   PS5
Dragon Quest XII: The Flames of Fate
???
Kingdom Hearts IV
???