Come anticipato la settimana scorsa, oggi Panini Comics ha annunciato ufficialmente sull'ultimo numero di Anteprima l'arrivo del manga di Kingdom Hearts 358/2 Days in Italia nella data del 29 ottobre. Il primo numero, che consterà di 192 pagine e sarà dotato di sovraccoperta, sarà acquistabile singolarmente a 7,90 € oppure insieme a un cofanetto da collezione nel quale raccogliere questo e i prossimi quattro volumi a 14,90 €. Il manga copre tutti gli eventi principali del videogioco, ma a differenza di quest'ultimo approfondisce un po' di più i personaggi dei vari membri dell'Organizzazione XIII e include alcune scene inedite che mettono in risalto le personalità di Roxas, Xion ed Axel.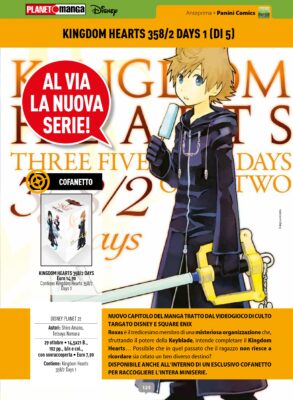 Anche questa volta l'autore è Shiro Amano, mangaka nato il 4 gennaio del 1976 e specializzatosi nell'adattamento a fumetti di videogiochi famosi. Oltre ad aver realizzato gli adattamenti di Kingdom Hearts, Kingdom Hearts Chain of Memories e Kingdom Hearts II – già disponibili in Italia – ha infatti adattato anche Legend of Mana e The World Ends With You. Inoltre, ha disegnato le copertine e le illustrazioni delle varie light novel dedicate alla serie Kingdom Hearts, che narrano gli stessi eventi presenti nei videogiochi. Al momento è al lavoro sul manga di Kingdom Hearts III, per il quale è già stato pubblicato un primo volume in Giappone (potete dare un'occhiata al prologo gratuitamente cliccando qui).
Nao
Mi chiamo Luca e dal 2009 aiuto Stefano con il sito per passione, in particolar modo per quanto riguarda le notizie e i social. Oltre a scrivere per Omnia Crystallis, sono anche un collaboratore di IGN Italia, per il quale scrivo recensioni, articoli e traduzioni. Ho iniziato a considerare i videogiochi una passione intorno al 2006, anno in cui ho scoperto quello che ancora oggi è uno dei miei personaggi videoludici preferiti di sempre: Lara Croft. I miei generi preferiti sono i JRPG, gli action adventure, le avventure grafiche e gli horror.
Recenti/prossime uscite
Final Fantasy Crystal Chronicles RE
27.08.2020    NSW | PS4 | iOS | Android
Marvel's Avengers
04.09.2020    PS4 | XB1 | PC | Stadia
2020               PS5 | Xbox SX
Kingdom Hearts Melody of Memory
13.11.2020    PS4 | XB1 | NSW
Collection of SaGa Final Fantasy Legend
15.12.2020    NSW
Outriders
2020    PS4 | PS5 | XB1 | Xbox SX | PC | Stadia
Babylon's Fall
2020    PS4 | PC
Bravely Default II
2020    NSW
NieR Replicant ver. 1.22474487139…
2020    PS4 | XB1 | PC
NieR Re[in]carnation
2020    iOS | Android
Dragon Quest XI S – Edizione definitiva
04.12.2020    PS4 | XB1 | PC

Balan Wonderworld
26.03.2021    PC | PS4 | PS5 | XB1 | Xbox SX | NSW