Square Enix ha diffuso oggi alcuni nuovi screenshot e qualche informazione in più sull'atteso Kingdom Hearts Dark Road. Per chi ancora non ne fosse al corrente, si tratta di un gioco mobile che sarà disponibile nel corso dell'estate (su iOS, Android e Amazon) e che potrà essere lanciato dalla schermata iniziale dell'app Kingdom Hearts Union χ[Cross].
Di seguito trovate le nuove immagini con le didascalie ufficiali.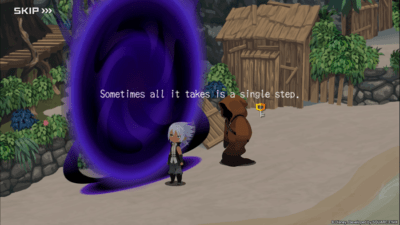 Why did he become the seeker of darkness?

This time Xehanort's partner-in-crime is none other than Eraqus!

Fellow companions working hard to become the best Keyblade wielders!

A refined and streamlined leveling system lets you grow stronger even in auto-mode!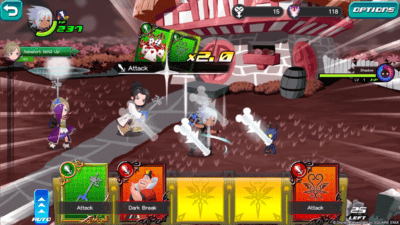 Enjoy intuitive and strategic combat as you tap and flick to victory!

Choose your cards wisely to win battles!

Play cards of the same color for a power boost!

Complete your enemy collection!
L'altro ieri, tramite l'account Twitter ufficiale del gioco, Square Enix ha svelato quattro nuovi personaggi della serie che appariranno per la prima volta proprio in Kingdom Hearts Dark Road. Si chiamano Bragi, Hermod, Urd, e Vor.
Si tratta degli amici d'infanzia di Eraqus e Xehanort e i loro nomi, come quello di Skuld, derivano dai miti scandinavi. Infatti, nella mitologia norrena Bragi è il dio della poesia, Hermod è il messaggero degli dei, Urd è la norna del destino e fa parte insieme a Skuld e Verdandi del trio delle norne. Vor è invece la dea norrena della saggezza.
Square Enix ha dichiarato che fino al lancio del gioco ci saranno aggiornamenti sempre più frequenti.
Zell
Il mio vero nome è Stefano e sono nato nello stesso anno di uscita del primo Final Fantasy. Nel 2000 ho aperto un sito su Final Fantasy VIII, ignaro del fatto che avrei condannato buona parte della mia vita a parlare dei giochi targati Square (per ora senza rimpianti). Videogiocatore dai tempi dell'Amiga 500, amo la musica, i libri gialli e thriller e soffro di dipendenza da serie TV. Contrariamente agli stereotipi legati ai fan di Final Fantasy, non sono un fan né dei manga né degli anime e il mio genere preferito non sono i giochi di ruolo bensì... Guarda dietro di te! Una scimmia a tre teste!
Recenti/prossime uscite
Final Fantasy XVI
22.06.2023   PS5
Final Fantasy VII Ever Crisis
07.09.2023   iOS | Android
Dragon Quest Trasures
14.07.2023   PC
Fullmetal Alchemist Mobile
2023   iOS | Android
Dragon Quest Keshi Keshi
2023   iOS | Android
Dragon Quest III Remake HD-2D
2023   ???
Infinity Strash – DQ: The Adventure of Dai
28.09.2023   PS4 | PS5 | NSW | PC | XBX
Dragon Quest Monsters: Il principe oscuro
01.12.2023   NSW
Kingdom Hearts Missing-Link
2024   iOS | Android
Final Fantasy VII Rebirth
29.02.2024   PS5
Dragon Quest XII: The Flames of Fate
???
Kingdom Hearts IV
???