"Wastelands", il terzo episodio di Life is Strange 2, è finalmente disponibile da oggi su Xbox One, PlayStation 4 e PC (Steam). Di seguito potete guardare il trailer di lancio del titolo.
Il viaggio dei fratelli Sean e Daniel Diaz verso il Messico continua in questo episodio, ambientato nelle foreste di sequoie della California pochi mesi dopo gli eventi dell'episodio 2 e la fuga da Beaver Creek.
Dopo essersi riuniti con Cassidy e Finn, i fratelli devono imparare a vivere ai margini della società facendo amicizia con una comunità molto affiatata di vagabondi e iniziando a lavorare in una piantagione illegale per racimolare i soldi necessari a continuare il loro viaggio.
Nuove amicizie, nuovi rapporti e nuovi mentori influenzeranno i due, incoraggiandoli a conoscere meglio se stessi. La determinazione di Sean e Daniel verrà messa ancora una volta alla prova quando si creeranno degli attriti. Ormai dubbiosi riguardo all'obiettivo su cui una volta erano d'accordo, i nostri protagonisti riusciranno a rimanere uniti?
"La storia di Life is Strange 2 raggiunge un punto cruciale in Wastelands. Questo episodio tratta temi quali la comunità, le relazioni e la ricerca della propria identità. Sean avrà di nuovo l'opportunità di avere dei rapporti con un gruppo di amici e tornare a comportarsi come un adolescente, mentre Daniel troverà dei nuovi modelli da ammirare – hanno spiegato Michel Koch e Raoul Barbet, i due co-creative director di Life is Strange 2 -. I fratelli – hanno aggiunto – passeranno più tempo da soli e scopriranno di più su se stessi e sulle loro personalità. Il loro viaggio finora è stato molto intenso, e in quest'episodio potranno rilassarsi un pochino e concentrarsi su sé stessi, anche se all'interno di una comunità che segue uno stile di vita alternativo".
"L'episodio 3 è un momento cruciale per Life is Strange 2. I colpi di scena sono davvero interessanti, e Sean e Daniel non saranno mai più gli stessi – ha dichiarato Jon Brooke, co-responsabile di Square Enix External Studios -. Siamo orgogliosi di questo episodio, e non vediamo l'ora di vedere le reazioni dei fan dopo averci giocato!".
Come riportato in precedenza, è possibile acquistare gli episodi di Life is Strange 2 anche individualmente, dunque non è obbligatorio acquistare l'intera stagione. Vi ricordiamo che i primi tre episodi di Life is Strange 2 sono già disponibili su Xbox One, PlayStation 4 e PC (Steam). Gli episodi 4 e 5 usciranno rispettivamente il 22 agosto e il 3 dicembre 2019.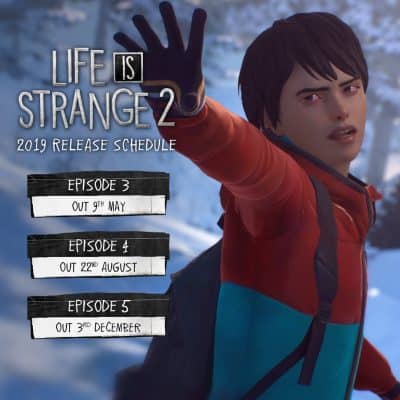 Zell
Il mio vero nome è Stefano e sono nato nello stesso anno di uscita del primo Final Fantasy. Nel 2000 ho aperto un sito su Final Fantasy VIII, ignaro del fatto che avrei condannato buona parte della mia vita a parlare dei giochi targati Square (per ora senza rimpianti). Videogiocatore dai tempi dell'Amiga 500, amo la musica, i libri gialli e thriller e soffro di dipendenza da serie TV. Contrariamente agli stereotipi legati ai fan di Final Fantasy, non sono un fan né dei manga né degli anime e il mio genere preferito non sono i giochi di ruolo bensì... Guarda dietro di te! Una scimmia a tre teste!
Recenti/prossime uscite
Final Fantasy XVI
22.06.2023   PS5
Final Fantasy VII Ever Crisis
07.09.2023   iOS | Android
Dragon Quest Trasures
14.07.2023   PC
Front Mission 2: Remake
2023   NSW
Kingdom Hearts Missing-Link
2023   iOS | Android
Fullmetal Alchemist Mobile
2023   iOS | Android
Dragon Quest Keshi Keshi
2023   iOS | Android
Dragon Quest III Remake HD-2D
2023   ???
Infinity Strash – DQ: The Adventure of Dai
28.09.2023   PS4 | PS5 | NSW | PC | XBX
Dragon Quest Monsters: Il principe oscuro
01.12.2023   NSW
Final Fantasy VII Rebirth
29.02.2024   PS5
Front Mission 3: Remake
???   NSW
Dragon Quest XII: The Flames of Fate
???
Kingdom Hearts IV
???