Square Enix e Dontnod Entertainment hanno pubblicato oggi il primo teaser trailer del terzo episodio di Life is Strange 2, che si intitolerà "Wastelands" e sarà disponibile dal prossimo 9 maggio.
Il viaggio dei fratelli Sean e Daniel Diaz verso il Messico continua in questo episodio, ambientato pochi mesi dopo gli eventi dell'episodio 2 e la fuga da Beaver Creek. I fratelli scopriranno cosa significa vivere ai margini della società, stringendo amicizia con i membri di una comunità di fuggiaschi e finendo invischiati nel commercio illegale di cannabis.
Sempre oggi, Dontnod ha fatto sapere che d'ora in avanti sarà possibile acquistare gli episodi di Life is Strange 2 anche individualmente, dunque non solo tramite l'acquisto dell'intera stagione. "Ci è voluto un po' di tempo – ha spiegato Said Jon Brook, co-responsabile di Square Enix External Studios – dal momento che dovevamo garantire che tutti gli episodi potessero essere giocati singolarmente e perfino in un diverso ordine, che non era il progetto originale. Tuttavia, siamo lieti di poter finalmente annunciare che i fan possono ora acquistare ogni singolo episodio di Life is Strange 2 individualmente, fin dal giorno della sua uscita. Vorremmo ringraziare tutti i fan che hanno sostenuto il progetto acquistando il Season Pass, coloro che intendono acquistare singoli episodi, nonché coloro che continuano a dare le loro opinioni sugli episodi. Life is Strange 2 è un progetto in corso d'opera e tutte le idee e le reazioni dei fan aiutano a migliorare il gioco e ciò che offre man mano che lo creiamo".
Vi ricordiamo che i primi due episodi di Life is Strange 2 sono già disponibili su Xbox One, PlayStation 4 e PC (Steam). Gli episodi 3, 4 e 5 usciranno rispettivamente il 9 maggio, il 22 agosto e il 3 dicembre 2019.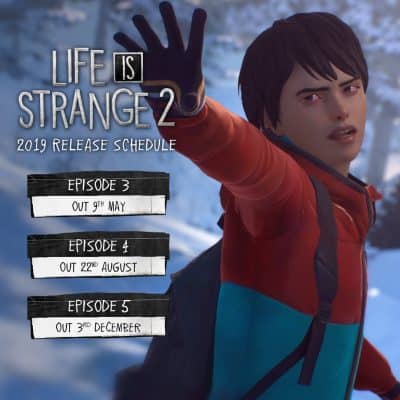 Zell
Il mio vero nome è Stefano e sono nato nello stesso anno di uscita del primo Final Fantasy. Nel 2000 ho aperto un sito su Final Fantasy VIII, ignaro del fatto che avrei condannato buona parte della mia vita a parlare dei giochi targati Square (per ora senza rimpianti). Videogiocatore dai tempi dell'Amiga 500, amo la musica, i libri gialli e thriller e soffro di dipendenza da serie TV. Contrariamente agli stereotipi legati ai fan di Final Fantasy, non sono un fan né dei manga né degli anime e il mio genere preferito non sono i giochi di ruolo bensì... Guarda dietro di te! Una scimmia a tre teste!
Recenti/prossime uscite
Final Fantasy XVI
22.06.2023   PS5
Final Fantasy VII Ever Crisis
07.09.2023   iOS | Android
Dragon Quest Trasures
14.07.2023   PC
Fullmetal Alchemist Mobile
2023   iOS | Android
Dragon Quest Keshi Keshi
2023   iOS | Android
Dragon Quest III Remake HD-2D
2023   ???
Infinity Strash – DQ: The Adventure of Dai
28.09.2023   PS4 | PS5 | NSW | PC | XBX
Dragon Quest Monsters: Il principe oscuro
01.12.2023   NSW
Kingdom Hearts Missing-Link
2024   iOS | Android
Final Fantasy VII Rebirth
29.02.2024   PS5
Dragon Quest XII: The Flames of Fate
???
Kingdom Hearts IV
???