Square Enix ha pubblicato oggi un video per presentare i musicisti e le menti creative dietro la colonna sonora orchestrale di Left Alive, che da quanto è possibile ascoltare sarà molto varia ed estremamente coinvolgente.
Nel video, il compositore Hidenori Iwasaki (serie Front Mission), lo score mixer per il cinema e la televisione Shinnosuke Miyazawa (007 Spectre, Alla ricerca di Dory, The Last Guardian) e l'orchestrator Jordan Seigel (Trolls, Ant-Man and the Wasp) parlano dai celebri Abbey Road Studios di Londra di ciò che li ha ispirati e del processo creativo per la colonna sonora di Left Alive. Facendo leva sulla loro esperienza all'interno di vari settori dell'intrattenimento, questi artisti hanno collaborato per creare una OST emozionante ed energica che aggiungerà ancora più suspence e teatralità alla storia e al gameplay.
Di seguito trovate gli ultimi screenshot ufficiali tratti dal gioco, che vi ricordiamo sarà disponibile dal prossimo 5 marzo per PlayStation 4 e PC/Steam.
È anche possibile acquistare un'edizione limitata di Left Alive, denominata "Mech Edition". Per maggiori informazioni sulle varie edizioni del gioco, cliccate qui.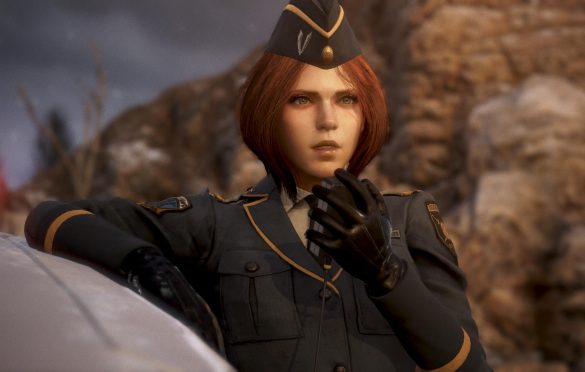 Zell
Il mio vero nome è Stefano e sono nato nello stesso anno di uscita del primo Final Fantasy. Nel 2000 ho aperto un sito su Final Fantasy VIII, ignaro del fatto che avrei condannato buona parte della mia vita a parlare dei giochi targati Square (per ora senza rimpianti). Videogiocatore dai tempi dell'Amiga 500, amo la musica, i libri gialli e thriller e soffro di dipendenza da serie TV. Contrariamente agli stereotipi legati ai fan di Final Fantasy, non sono un fan né dei manga né degli anime e il mio genere preferito non sono i giochi di ruolo bensì... Guarda dietro di te! Una scimmia a tre teste!
Recenti/prossime uscite
Final Fantasy XVI
22.06.2023   PS5
Final Fantasy VII Ever Crisis
07.09.2023   iOS | Android
Dragon Quest Trasures
14.07.2023   PC
Fullmetal Alchemist Mobile
2023   iOS | Android
Dragon Quest Keshi Keshi
2023   iOS | Android
Dragon Quest III Remake HD-2D
2023   ???
Infinity Strash – DQ: The Adventure of Dai
28.09.2023   PS4 | PS5 | NSW | PC | XBX
Dragon Quest Monsters: Il principe oscuro
01.12.2023   NSW
Kingdom Hearts Missing-Link
2024   iOS | Android
Final Fantasy VII Rebirth
29.02.2024   PS5
Dragon Quest XII: The Flames of Fate
???
Kingdom Hearts IV
???