In occasione della collaborazione tra la cantante Katy Perry e il free-to-play per smartphone Final Fantasy Brave Exvius, Square Enix ha diffuso una video-intervista fatta alla celebre popstar – nella quale risponde a varie domande inerenti alla collaborazione – accompagnata da un breve messaggio ai fan.
L'evento dedicato alla cantante, chiamato "Red Hot Music", è disponibile da ieri, e permette di ottenere 4 diverse unità di "Popstar Katy", insieme a varie ricette con cui creare i pezzi di equipaggiamento con cui potenziare il personaggio. Si tratta di un "Wave Battle Event", ovvero un evento con diversi gradi di difficoltà che richiede di sconfiggere orde di nemici, tra cui un gigantesco "Flame Dragon" come boss finale. Per accedere all'evento basta cliccare su "Vortex" e poi su "Event: Wave Battle Event – Red Hot Music". In futuro si terrà anche un secondo evento dedicato alla popstar, nel quale si potrà ottenere una nuova unità della cantante, che si può intravedere alla fine del videoclip di annuncio della collaborazione.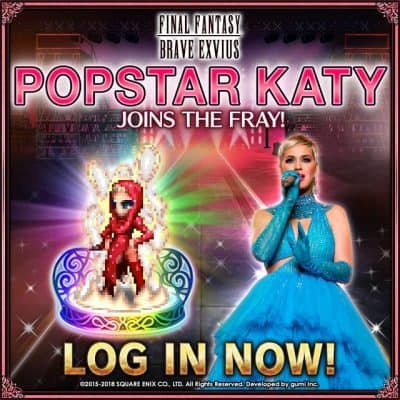 Oltre alla collaborazione con Katy Perry, recentemente ne è stata annunciata anche una con Kingdom Hearts, in occasione dell'imminente uscita di Kingdom Hearts III. Di seguito trovate un teaser di questa futura collaborazione, nel quale è possibile vedere Sora sotto forma di personaggio di FFBE. Maggiori dettagli sulla collaborazione verranno diffusi prossimamente.
Final Fantasy Brave Exvius è disponibile gratuitamente per dispositivi iOS e Android.
Nao
Mi chiamo Luca e dal 2009 aiuto Stefano con il sito per passione, in particolar modo per quanto riguarda le notizie e i social. Ho iniziato a considerare i videogiochi una passione intorno al 2006, anno in cui ho scoperto quello che ancora oggi è uno dei miei personaggi videoludici preferiti di sempre: Lara Croft. I miei generi preferiti sono i JRPG, gli action adventure, le avventure grafiche e gli horror.
Recenti/prossime uscite
Final Fantasy XVI
22.06.2023   PS5
Final Fantasy VII Ever Crisis
07.09.2023   iOS | Android
Dragon Quest Trasures
14.07.2023   PC
Fullmetal Alchemist Mobile
2023   iOS | Android
Dragon Quest Keshi Keshi
2023   iOS | Android
Dragon Quest III Remake HD-2D
2023   ???
Infinity Strash – DQ: The Adventure of Dai
28.09.2023   PS4 | PS5 | NSW | PC | XBX
Dragon Quest Monsters: Il principe oscuro
01.12.2023   NSW
Kingdom Hearts Missing-Link
2024   iOS | Android
Final Fantasy VII Rebirth
29.02.2024   PS5
Dragon Quest XII: The Flames of Fate
???
Kingdom Hearts IV
???