Square Enix ha appena annunciato le date d'uscita delle edizioni fisiche di Life is Strange: Before the Storm e dell'episodio bonus "Addio".
Quest'ultimo – in cui vi ricordiamo sarà possibile vestire i panni di Max per un'ultima volta – sarà disponibile dal 6 marzo, mentre le edizioni fisiche di Before the Storm saranno disponibili dal 6 marzo in Nord America e dal 9 marzo in Europa.
A differenza di quanto accaduto per l'edizione fisica dell'originale Life is Strange, per Life is Strange: Before the Storm verranno messe in commercio ben tre edizioni, ed è previsto anche un bonus preordine.
La prima edizione, chiamata "Vinyl Edition", è acquistabile esclusivamente dallo Square Enix Store al prezzo di 69,99 €, e comprende l'intera stagione (episodi 1-2-3), l'episodio bonus "Addio", dei vinili con l'intera colonna sonora del gioco, un artbook fisico, la colonna sonora in formato CD, una scatola da collezione e tutti i contenuti extra dell'edizione Deluxe, rilasciati per ora esclusivamente in formato digitale (ovvero la modalità Compilation e tre costumi per Chloe).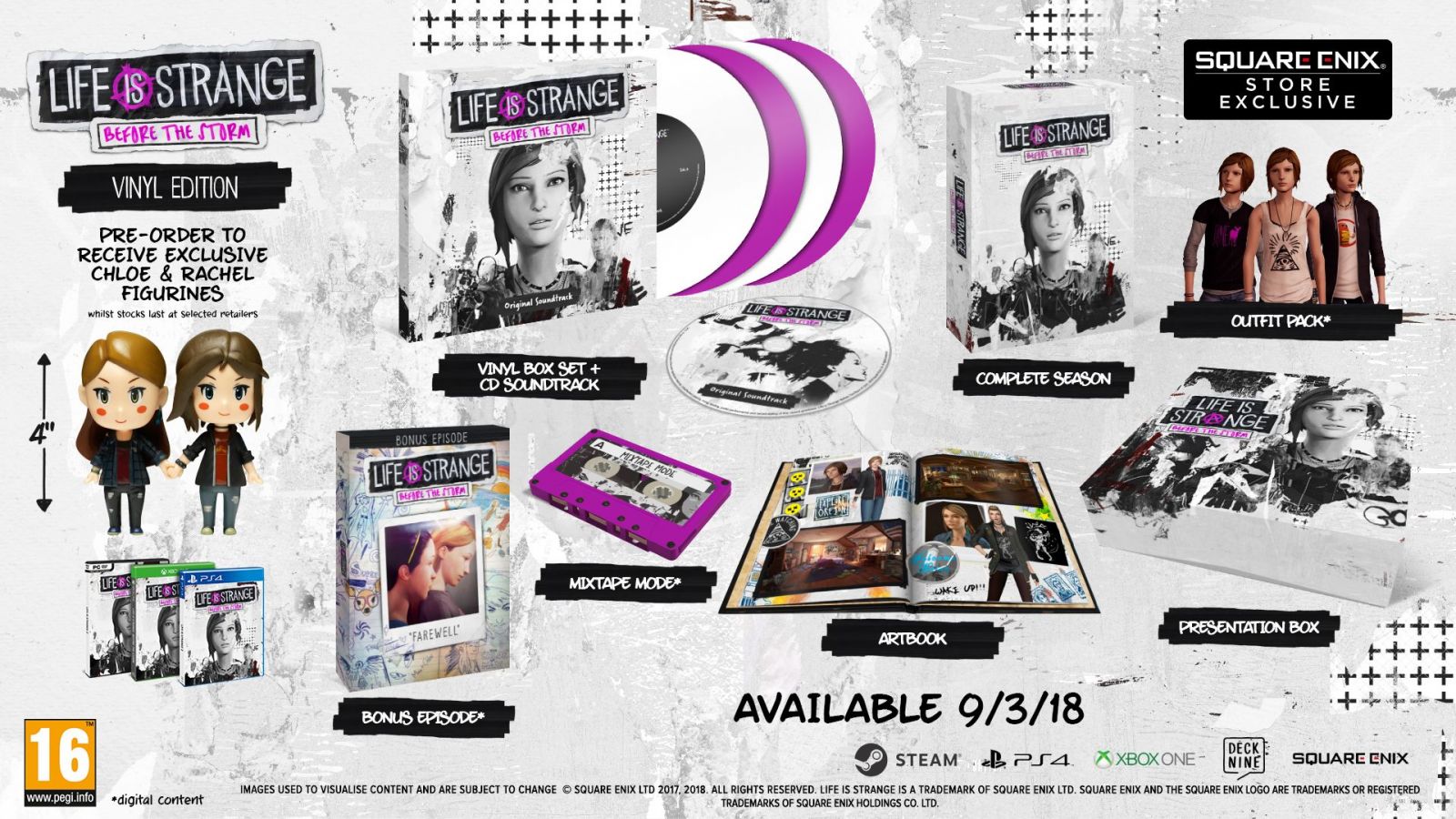 La seconda è la "Limited Edition", che includerà tutti i contenuti della "Vinyl Edition", vinili a parte, e che sarà acquistabile ovunque e non solo dal negozio online di Square Enix, al prezzo di 39,99 €.
Infine, verrà rilasciata anche un'edizione standard, che come la Limited sarà acquistabile ovunque e includerà semplicemente tutti e tre gli episodi del gioco e l'episodio bonus "Addio". Il prezzo di quest'ultima è però ancora sconosciuto.
Preordinando una qualsiasi di queste edizioni dal negozio online di Square Enix o dai retailer che partecipano all'iniziativa, sarà possibile ricevere in omaggio due piccole figure in stile super deformed raffiguranti Chloe e Rachel.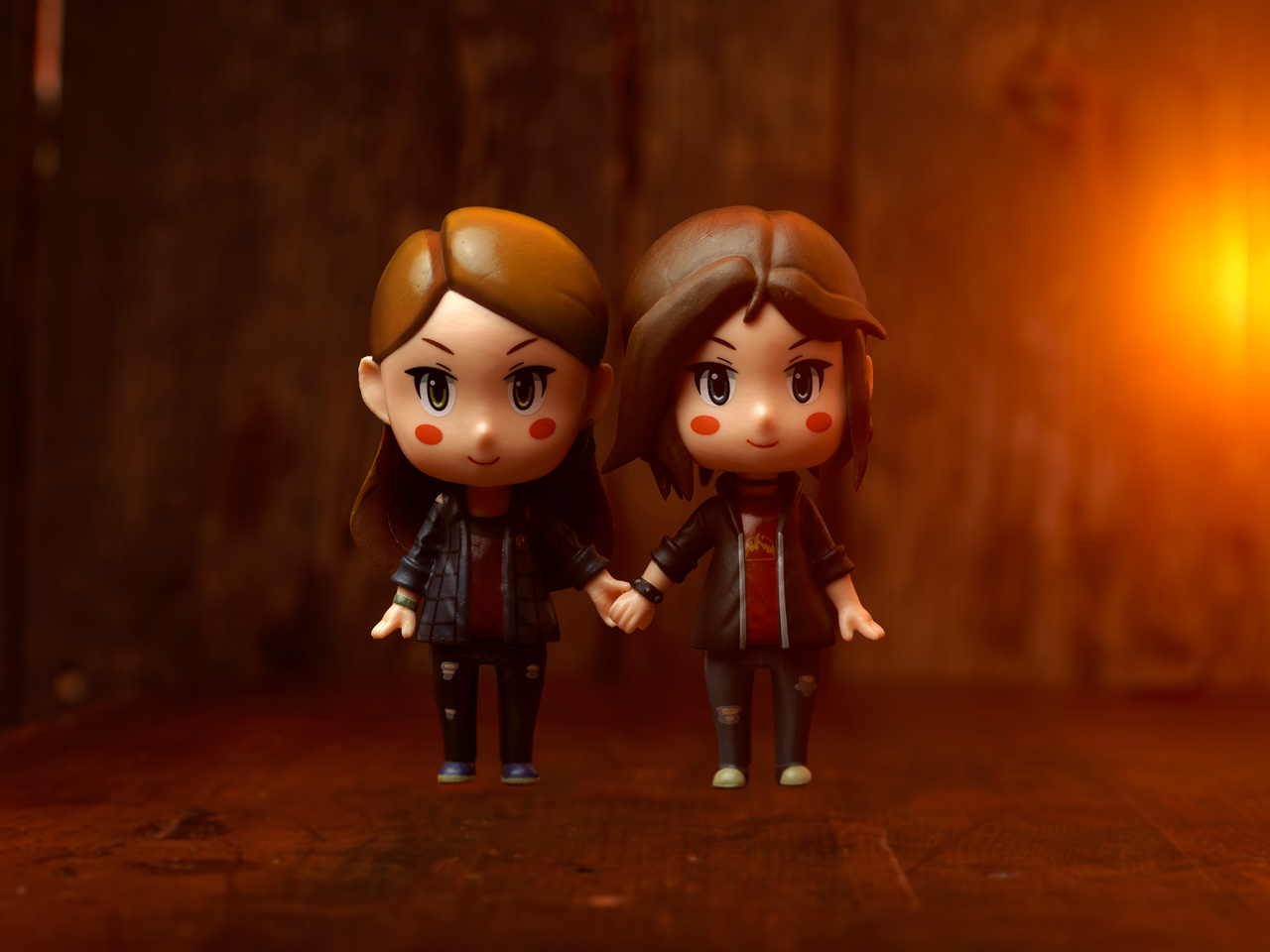 L'intera stagione di Life is Strange: Before the Storm è già disponibile in formato digitale per PS4, Xbox One e PC.
Zell
Il mio vero nome è Stefano e sono nato nello stesso anno di uscita del primo Final Fantasy. Nel 2000 ho aperto un sito su Final Fantasy VIII, ignaro del fatto che avrei condannato buona parte della mia vita a parlare dei giochi targati Square (per ora senza rimpianti). Videogiocatore dai tempi dell'Amiga 500, amo la musica, i libri gialli e thriller e soffro di dipendenza da serie TV. Contrariamente agli stereotipi legati ai fan di Final Fantasy, non sono un fan né dei manga né degli anime e il mio genere preferito non sono i giochi di ruolo bensì... Guarda dietro di te! Una scimmia a tre teste!
Recenti/prossime uscite
Final Fantasy XVI
22.06.2023   PS5
Final Fantasy VII Ever Crisis
07.09.2023   iOS | Android
Dragon Quest Trasures
14.07.2023   PC
Fullmetal Alchemist Mobile
2023   iOS | Android
Dragon Quest Keshi Keshi
2023   iOS | Android
Dragon Quest III Remake HD-2D
2023   ???
Infinity Strash – DQ: The Adventure of Dai
28.09.2023   PS4 | PS5 | NSW | PC | XBX
Dragon Quest Monsters: Il principe oscuro
01.12.2023   NSW
Kingdom Hearts Missing-Link
2024   iOS | Android
Final Fantasy VII Rebirth
29.02.2024   PS5
Dragon Quest XII: The Flames of Fate
???
Kingdom Hearts IV
???