Sempre parlando dell'universo di Final Fantasy XV, è stato annunciato che Monster of the Deep: Final Fantasy XV, gioco per il sistema PlayStation VR, sarà disponibile dal 21 novembre. In Monster of the Deep: Final Fantasy XV, i giocatori si avventureranno in una spedizione di pesca con Noctis e i suoi amici attraverso una serie di paesaggi pittoreschi.
Questa la descrizione del gioco secondo il comunicato stampa diffuso da Square Enix:
"Avventurati nella modalità storia e preparati per uno scontro finale pieno di azione contro la minaccia che si nasconde nelle profondità. Oppure rilassati e goditi la vista, i suoni e gli scenari mentre lanci l'amo nella modalità di pesca libera. Potrai partecipare ad una varietà di sfide, passare del tempo con Prompto, Ignis, Gladiolus e molto altro. I giocatori che preordineranno Monster of The Deep: Final Fantasy XV riceveranno un tema dinamico personalizzato e il costume da samurai da indossare nel gioco. È possibile effettuare il preordine da oggi su PlayStation Store".
Ecco una serie di screenshot tratti dal gioco:
Infine, ecco alcune immagini del tema dinamico e del costume da samurai, entrambi in regalo con il pre-order: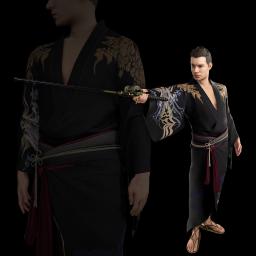 Zell
Il mio vero nome è Stefano e sono nato nello stesso anno di uscita del primo Final Fantasy. Nel 2000 ho aperto un sito su Final Fantasy VIII, ignaro del fatto che avrei condannato buona parte della mia vita a parlare dei giochi targati Square (per ora senza rimpianti). Videogiocatore dai tempi dell'Amiga 500, amo la musica, i libri gialli e thriller e soffro di dipendenza da serie TV. Contrariamente agli stereotipi legati ai fan di Final Fantasy, non sono un fan né dei manga né degli anime e il mio genere preferito non sono i giochi di ruolo bensì... Guarda dietro di te! Una scimmia a tre teste!
Recenti/prossime uscite
Final Fantasy XVI
22.06.2023   PS5
Final Fantasy VII Ever Crisis
07.09.2023   iOS | Android
Dragon Quest Trasures
14.07.2023   PC
Front Mission 2: Remake
2023   NSW
Kingdom Hearts Missing-Link
2023   iOS | Android
Fullmetal Alchemist Mobile
2023   iOS | Android
Dragon Quest Keshi Keshi
2023   iOS | Android
Dragon Quest III Remake HD-2D
2023   ???
Infinity Strash – DQ: The Adventure of Dai
28.09.2023   PS4 | PS5 | NSW | PC | XBX
Dragon Quest Monsters: Il principe oscuro
01.12.2023   NSW
Final Fantasy VII Rebirth
29.02.2024   PS5
Front Mission 3: Remake
???   NSW
Dragon Quest XII: The Flames of Fate
???
Kingdom Hearts IV
???