Mesi fa l'annuncio di una collaborazione tra Square Enix e Machine Zone; oggi la presentazione del gioco mobile scaturito da questa curiosa partnership.
Il titolo è Final Fantasy XV: A New Empire. Come suggerisce il nome, saremo chiamati a costruire un impero dotato di esercito con il quale combattere in tempo reale contro altri giocatori. Il gioco, un free-to-play sviluppato per per dispositivi iOS e Android, è al momento disponibile soltanto in Nuova Zelanda , ma presto dovrebbe fare capolino anche negli store del resto del mondo. Tra le lingue disponibili, anche l'italiano, come suggerisce la pagina del prodotto su iTunes.
Se siete curiosi di saperne di più, fate clic qui per vedere un video di gameplay di 7 minuti.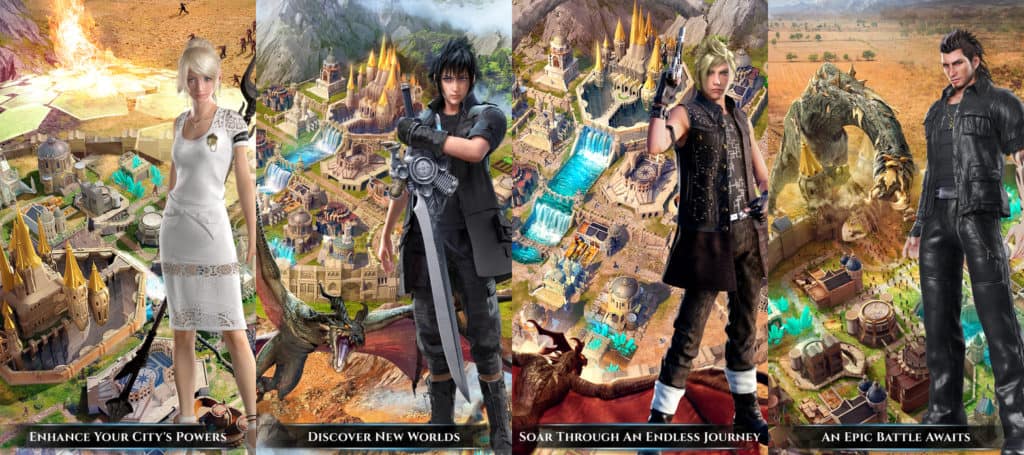 Nao
Mi chiamo Luca e dal 2009 aiuto Stefano con il sito per passione, in particolar modo per quanto riguarda le notizie e i social. Ho iniziato a considerare i videogiochi una passione intorno al 2006, anno in cui ho scoperto quello che ancora oggi è uno dei miei personaggi videoludici preferiti di sempre: Lara Croft. I miei generi preferiti sono i JRPG, gli action adventure, le avventure grafiche e gli horror.
Recenti/prossime uscite
Final Fantasy XVI
22.06.2023   PS5
Final Fantasy VII Ever Crisis
07.09.2023   iOS | Android
Dragon Quest Trasures
14.07.2023   PC
Fullmetal Alchemist Mobile
2023   iOS | Android
Dragon Quest Keshi Keshi
2023   iOS | Android
Dragon Quest III Remake HD-2D
2023   ???
Infinity Strash – DQ: The Adventure of Dai
28.09.2023   PS4 | PS5 | NSW | PC | XBX
Dragon Quest Monsters: Il principe oscuro
01.12.2023   NSW
Kingdom Hearts Missing-Link
2024   iOS | Android
Final Fantasy VII Rebirth
29.02.2024   PS5
Dragon Quest XII: The Flames of Fate
???
Kingdom Hearts IV
???