Come ben saprete, i contenuti scaricabili di Final Fantasy XV facenti parte del relativo Season Pass sono già stati annunciati qualche giorno fa ed includeranno tre espansioni della campagna principale (dedicate a Gladio, Prompto e Ignis) e il DLC "Comrades", che aggiungerà una modalità co-op online fino a quattro giocatori.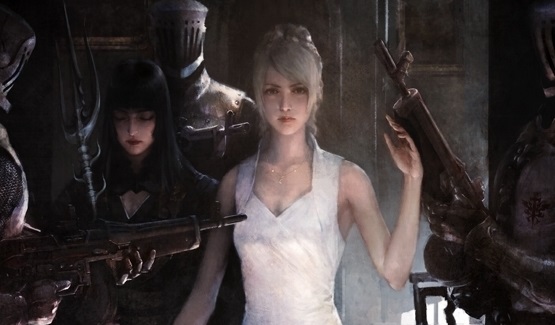 Fino ad ora, la possibilità di utilizzare personaggi femminili in FFXV è sempre stata scartata dagli sviluppatori per un motivo o per l'altro. È stato confermato che nel corso dell'avventura entreranno brevemente nel party alcuni personaggi femminili, ma è stato anche detto che questi non potranno essere controllati in alcun modo. Ovviamente questo fatto ha causato un po' di malcontento, e le voci dei fan della saga in attesa di FFXV che vorrebbero poter giocare nei panni di un personaggio femminile, come ad esempio Luna, si sono fatte sempre più insistenti, al punto da essere arrivate anche alle orecchie del produttore dei DLC, Haruyoshi Sawatari. Questo ha dichiarato durante un'intervista a JeuxVideo che, vista la forte richiesta da parte dei fan, lui e il suo team stanno pensando di creare un nuovo DLC (molto probabilmente una quarta espansione della campagna principale, ndr) in cui sarà possibile controllare un personaggio femminile. Che si tratti proprio di Luna? Continuate a seguirci per saperne di più!
Final Fantasy XV sarà disponibile a partire dal 29 novembre per PS4 e Xbox One.
Nao
Mi chiamo Luca e dal 2009 aiuto Stefano con il sito per passione, in particolar modo per quanto riguarda le notizie e i social. Ho iniziato a considerare i videogiochi una passione intorno al 2006, anno in cui ho scoperto quello che ancora oggi è uno dei miei personaggi videoludici preferiti di sempre: Lara Croft. I miei generi preferiti sono i JRPG, gli action adventure, le avventure grafiche e gli horror.
Recenti/prossime uscite
Final Fantasy XVI
22.06.2023   PS5
Final Fantasy VII Ever Crisis
07.09.2023   iOS | Android
Dragon Quest Trasures
14.07.2023   PC
Fullmetal Alchemist Mobile
2023   iOS | Android
Dragon Quest Keshi Keshi
2023   iOS | Android
Dragon Quest III Remake HD-2D
2023   ???
Infinity Strash – DQ: The Adventure of Dai
28.09.2023   PS4 | PS5 | NSW | PC | XBX
Dragon Quest Monsters: Il principe oscuro
01.12.2023   NSW
Kingdom Hearts Missing-Link
2024   iOS | Android
Final Fantasy VII Rebirth
29.02.2024   PS5
Dragon Quest XII: The Flames of Fate
???
Kingdom Hearts IV
???