Square Enix ha fornito oggi nuovi dettagli sul gameplay e sulle strategie che i giocatori potranno adottare durante i combattimenti e al di fuori di essi nello sparatutto d'azione e di sopravvivenza intitolato Left Alive.
Ambientato a Novo Slava, una città distrutta dalla guerra, un nuovo trailer dal titolo "Trova il modo per sopravvivere" ci mostra come i giocatori dovranno affidarsi solo al loro istinto per trovare una strada per la sopravvivenza usando meccaniche furtive, fabbricando oggetti, trappole e altro ancora. Il mondo cupo e crudo di Left Alive è colmo di sfide; i giocatori dovranno riflettere sui possibili esiti delle loro interazioni con gli altri sopravvissuti, poiché potranno influenzare in modo positivo o negativo le probabilità di sopravvivenza di ciascuno.
Come riportato in precedenza, Left Alive segue tre protagonisti diversi, ognuno con le proprie storie, le proprie missioni e possibili strade verso la salvezza. Il gioco offre una serie di stili di gioco pieni d'azione che mescolano manovre furtive e strategiche, battaglie frenetiche a colpi d'arma da fuoco e incontri adrenalinici con truppe armate fino ai denti, veicoli blindati e imponenti mech.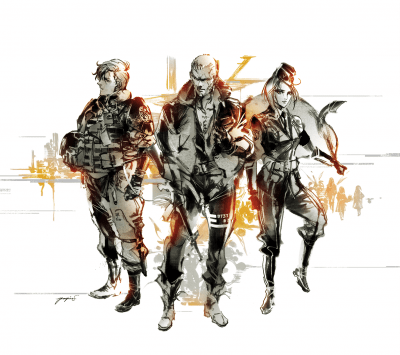 I tre protagonisti di Left Alive in un'illustrazione di Yoji Shinkawa,character designer della serie Metal Gear
Left Alive uscirà in Giappone il 28 febbraio e nel resto del mondo, Europa compresa, il 5 marzo del prossimo anno. In questo articolo trovate tutti i dettagli sulle varie edizioni del gioco, tra cui la "Mech Edition", disponibile in sole 3.000 unità. Oltre a una box da collezione, questa edizione include una action figure del VOLK creata da Takayuki Yanase, un artbook con copertina rigida di 80 pagine e una confezione SteelBook esclusiva.
Zell
Il mio vero nome è Stefano e sono nato nello stesso anno di uscita del primo Final Fantasy. Nel 2000 ho aperto un sito su Final Fantasy VIII, ignaro del fatto che avrei condannato buona parte della mia vita a parlare dei giochi targati Square (per ora senza rimpianti). Videogiocatore dai tempi dell'Amiga 500, amo la musica, i libri gialli e thriller e soffro di dipendenza da serie TV. Contrariamente agli stereotipi legati ai fan di Final Fantasy, non sono un fan né dei manga né degli anime e il mio genere preferito non sono i giochi di ruolo bensì... Guarda dietro di te! Una scimmia a tre teste!
Recenti/prossime uscite
Final Fantasy XVI
22.06.2023   PS5
Final Fantasy VII Ever Crisis
07.09.2023   iOS | Android
Dragon Quest Trasures
14.07.2023   PC
Fullmetal Alchemist Mobile
2023   iOS | Android
Dragon Quest Keshi Keshi
2023   iOS | Android
Dragon Quest III Remake HD-2D
2023   ???
Infinity Strash – DQ: The Adventure of Dai
28.09.2023   PS4 | PS5 | NSW | PC | XBX
Dragon Quest Monsters: Il principe oscuro
01.12.2023   NSW
Kingdom Hearts Missing-Link
2024   iOS | Android
Final Fantasy VII Rebirth
29.02.2024   PS5
Dragon Quest XII: The Flames of Fate
???
Kingdom Hearts IV
???