Square Enix ha fatto sapere oggi che Final Fantasy XII: The Zodiac Age ha venduto oltre 1 milione di copie in tutto il mondo. Il dato tiene conto delle unità fisiche spedite ai distributori e di quelle vendute in formato digitale.
Per festeggiare tale traguardo, la software house ha diffuso un nuovo video e un'illustrazione inedita del direttore artistico Isamu Kamikokuryo.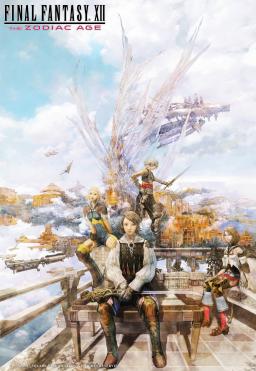 Il gioco, pubblicato all'inizio di quest'anno per PlayStation 4, include una serie di miglioramenti rispetto all'originale uscito per PS2 nel 2006, tra cui texture in alta definizione, colonna sonora rimasterizzata, auto-save, tempi di caricamento ridotti, scelta tra doppiaggio inglese e giapponese e l'aggiunta dello Zodiac Job System.
Zell
Il mio vero nome è Stefano e sono nato nello stesso anno di uscita del primo Final Fantasy. Nel 2000 ho aperto un sito su Final Fantasy VIII, ignaro del fatto che avrei condannato buona parte della mia vita a parlare dei giochi targati Square (per ora senza rimpianti). Videogiocatore dai tempi dell'Amiga 500, amo la musica, i libri gialli e thriller e soffro di dipendenza da serie TV. Contrariamente agli stereotipi legati ai fan di Final Fantasy, non sono un fan né dei manga né degli anime e il mio genere preferito non sono i giochi di ruolo bensì... Guarda dietro di te! Una scimmia a tre teste!
Recenti/prossime uscite
Final Fantasy XVI
22.06.2023   PS5
Final Fantasy VII Ever Crisis
07.09.2023   iOS | Android
Dragon Quest Trasures
14.07.2023   PC
Front Mission 2: Remake
2023   NSW
Kingdom Hearts Missing-Link
2023   iOS | Android
Fullmetal Alchemist Mobile
2023   iOS | Android
Dragon Quest Keshi Keshi
2023   iOS | Android
Dragon Quest III Remake HD-2D
2023   ???
Infinity Strash – DQ: The Adventure of Dai
28.09.2023   PS4 | PS5 | NSW | PC | XBX
Dragon Quest Monsters: Il principe oscuro
01.12.2023   NSW
Final Fantasy VII Rebirth
29.02.2024   PS5
Front Mission 3: Remake
???   NSW
Dragon Quest XII: The Flames of Fate
???
Kingdom Hearts IV
???