Utada Teruzane, padre e manager di Utada Hikaru, ha confermato oggi su Twitter che la cantautrice sta già lavorando al tema principale di Kingdom Hearts III. Questa è davvero un'ottima notizia, dato che le speranze che Utada registrasse un nuovo brano per il capitolo conclusivo della serie, almeno fino ad oggi, erano davvero poche. Infatti, in un'intervista rilasciata a JETANNY nel 2009, il manager di Utada aveva dichiarato che non si sarebbe realizzato nessun nuovo brano a causa delle offerte troppo basse avanzate da Disney alla cantautrice.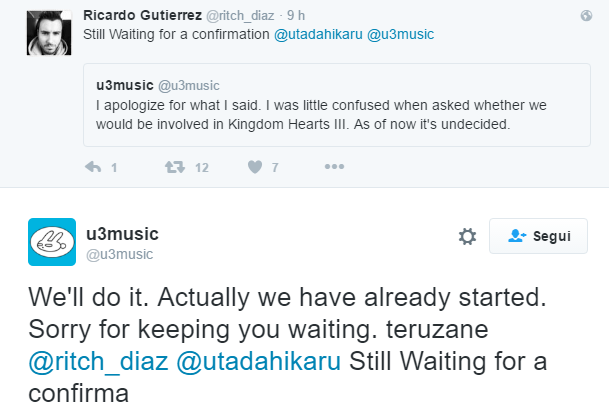 Utada Hikaru ha lavorato di recente insieme al produttore giapponese PUNPEE per il tema principale di Kingdom Hearts HD 2.8 Final Chapter Prologue, intitolato "Simple and Clean (Ray of Hope MIX)". Per maggiori informazioni, cliccate qui.
Kingdom Hearts III è attualmente in sviluppo per PS4 e Xbox One.
UPDATE 24/12/16 Utada Teruzane si è corretto dichiarando che, nonostante a lui e Utada piacerebbe essere coinvolti nella creazione di una nuovo brano per KH III, non è ancora stato deciso nulla ufficialmente. In ogni caso, vista il recente coinvolgimento della cantautrice in KH HD 2.8 FCP, le probabilità che registri un nuovo brano per il terzo capitolo della serie sono di gran lunga superiori rispetto a qualche anno fa.

Nao
Mi chiamo Luca e dal 2009 aiuto Stefano con il sito per passione, in particolar modo per quanto riguarda le notizie e i social. Ho iniziato a considerare i videogiochi una passione intorno al 2006, anno in cui ho scoperto quello che ancora oggi è uno dei miei personaggi videoludici preferiti di sempre: Lara Croft. I miei generi preferiti sono i JRPG, gli action adventure, le avventure grafiche e gli horror.
Recenti/prossime uscite
Final Fantasy XVI
22.06.2023   PS5
Final Fantasy VII Ever Crisis
07.09.2023   iOS | Android
Dragon Quest Trasures
14.07.2023   PC
Fullmetal Alchemist Mobile
2023   iOS | Android
Dragon Quest Keshi Keshi
2023   iOS | Android
Dragon Quest III Remake HD-2D
2023   ???
Infinity Strash – DQ: The Adventure of Dai
28.09.2023   PS4 | PS5 | NSW | PC | XBX
Dragon Quest Monsters: Il principe oscuro
01.12.2023   NSW
Kingdom Hearts Missing-Link
2024   iOS | Android
Final Fantasy VII Rebirth
29.02.2024   PS5
Dragon Quest XII: The Flames of Fate
???
Kingdom Hearts IV
???