Mobius Final Fantasy, titolo free-to-play per smartphone che recentemente ha fatto il suo debutto anche in Nord America ed Europa, ha da poco superato gli 8.888.888 iscritti in tutto il mondo. Per festeggiare, Square Enix ha programmato varie estrazioni e contest ai quali sarà possibile partecipare nel mese di novembre. Questi prevederanno l'utilizzo di Facebook e daranno la possibilità ai partecipanti di vincere premi esclusivi, sia materiali che in-game.
Ecco la lista dellle estrazioni e dei contest in programma: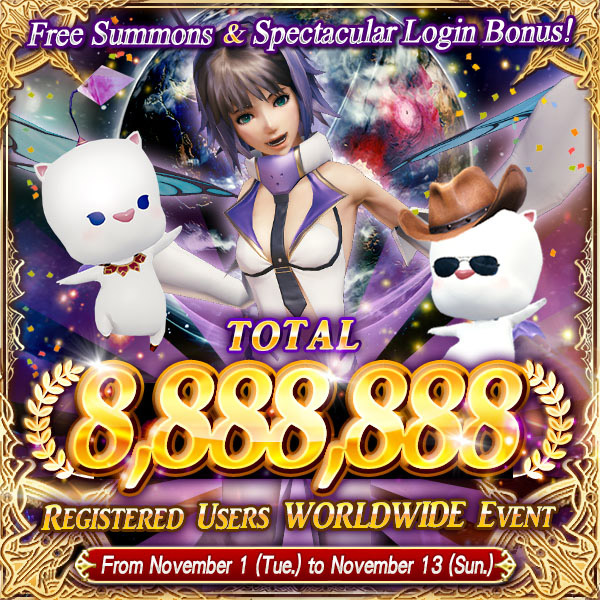 Evento per gli 8.888.888 iscritti in tutto il mondo (Nov. 1–13) 
Due fortunatissimi fan verranno selezionati tramite estrazione per vincere una copia autografata della collection ufficiale di concept art di Mobius Final Fantasy o una copia autografata del CD della colonna sonora del gioco. Per partecipare all'estrazione è necessario condividere il post ufficiale dell'evento su Facebook allegando il messaggio "Congratulations to Mobius Final Fantasy for hitting 8,888,888 registered users worldwide!", il tutto avendo ovviamente impostato la privacy su "pubblico". Inoltre, quando il post ufficiale dell'evento su Facebook avrà raggiunto le 8888 condivisioni e gli 8888 mi piace, tutti i giocatori di Mobius Final Fantasy otterranno 88 Ability Tickets da utilizzare nel gioco.
"RICORDI DI MOBIUS"
Per l'intero mese di novembre, i giocatori potranno vincere altri premi condividendo le loro migliori esperienze riguardanti Mobius Final Fantasy. La storia che otterrà più mi piace sul post ufficiale Facebook dell'evento verrà premiata con una copia autografata della colonna sonora di Mobius Final Fantasy. Il secondo premio sarà invece un peluche di un moguri. Inoltre, se il post supererà le 3888 condivisioni e i 3888 mi piace, tutti i giocatori otterranno 3 cristalli da utilizzare nel gioco.
Bonus per il login in-game e Summon Tickets gratuiti (Nov. 1–13)
Per due settimane sarà disponibile uno speciale bonus per il login, attraverso il quale sarà possibile ottenere dei Summon Tickets, una Growstar e altri oggetti rari come ricompensa gratuitamente. Inoltre, durante questo periodo, i giocatori saranno in grado di invocare un'Ability Card senza il bisogno di utilizzare Summon Tickets o Magicite.
Mobius Final Fantasy è disponibile gratuitamente su iOS e Android e recentemente è approdato sulla piattaforma Steam in Giappone.
Nao
Mi chiamo Luca e dal 2009 aiuto Stefano con il sito per passione, in particolar modo per quanto riguarda le notizie e i social. Ho iniziato a considerare i videogiochi una passione intorno al 2006, anno in cui ho scoperto quello che ancora oggi è uno dei miei personaggi videoludici preferiti di sempre: Lara Croft. I miei generi preferiti sono i JRPG, gli action adventure, le avventure grafiche e gli horror.
Recenti/prossime uscite
Final Fantasy XVI
22.06.2023   PS5
Final Fantasy VII Ever Crisis
07.09.2023   iOS | Android
Dragon Quest Trasures
14.07.2023   PC
Fullmetal Alchemist Mobile
2023   iOS | Android
Dragon Quest Keshi Keshi
2023   iOS | Android
Dragon Quest III Remake HD-2D
2023   ???
Infinity Strash – DQ: The Adventure of Dai
28.09.2023   PS4 | PS5 | NSW | PC | XBX
Dragon Quest Monsters: Il principe oscuro
01.12.2023   NSW
Kingdom Hearts Missing-Link
2024   iOS | Android
Final Fantasy VII Rebirth
29.02.2024   PS5
Dragon Quest XII: The Flames of Fate
???
Kingdom Hearts IV
???